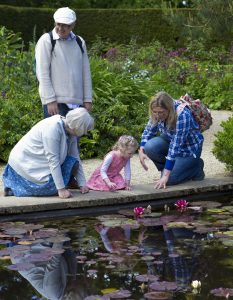 Becoming a grandparent is a truly special experience and one that you have dreamed about for quite some time. But what does it mean to become a grandparent through adoption? What is the adoption process even like? The unknowns can be pretty intimidating, especially when you are one step removed from the adoption planning.
"The process — with its often excruciating waits and myriad unknowns — can intimidate the uninitiated," writes Jessica Wambach Brown, Next Avenue.
Helping Grandparents Better Understand the Adoption Processes
Here are a few tips to help grandparents prepare.
Educate Yourself About Adoption
While expectant adoptive parents receive mandatory training and education, grandparents are often left on their own to better educate themselves about adoption. But that's why you're here!
Read Often:

There are numerous books and internet articles out there designed to help educate people on adoption.

AdoptionMakesFamily.org

can serve as an education resource as well. Check out our

Adoptive Parent

section,

FAQs

, and explore our

blog

, which we update with fresh content weekly.

Ask Questions:

Don't be afraid to ask your child questions. "Most prospective parents are happy to calm fears, debunk myths and explain the correct language of adoption, a crucial way to fight stereotypes," says Wambach Brown. But remember to be respectful of your child's feelings. If they seem overwhelmed, take a step back and maybe wait for a better time.

What is Positive Adoption Language?

Positive Adoption Language, first created in 1979, is the preferred language used by

Adoption Makes Family

. Positive Adoption Language encourages respect for the emotions of all parties. For example, rather than referring to the biological mother as "first mother" or "natural mother," we refer to the biological mother as the "birth mother." This indicates the role of the birth mother as the individual who gave birth, which is an integral part of the adoption process. Terms like "first mother" and "natural mother" insinuated that the adoptive mother is "second" or "unnatural."

What is Open Adoption?

One of the aspects of being a grandparent to an adopted child that some initially struggle with is open adoption, "in which birth parents maintain some degree of contact with the child and the adoptive parents," writes Wambach Brown. Today, 95 percent of adoptions are either open or semi-open, according to Jennifer Fairfax LLC. "The confidentiality that once defined adoption is no longer the norm," says Eliza Newlin Carney, Adoptive Families. This arrangement can, at first, seem strange to some grandparents, but it is actually one of the healthiest ways to raise an adopted child.
Remember to Have Patience
Your child's adoption journey can be a long one, and waiting for your new grandchild can be difficult.
Dealing with Unknown Timelines:

"It's so much harder for adoption than a pregnancy," says Ryan Hanlon, vice president of NCFA. "The advantage of a pregnancy is we have a pretty known timeline. It could happen earlier, but it's not like we expect it to be 40 weeks and it ends up being eighty weeks. In adoption, we could expect a year and it takes two." This waiting period is the perfect time to begin preparing your home and educating yourself.

You Have to Take a Backseat:

"It's normal for grandparents to want to jump in and help their children prepare for a new arrival," says Wambach Brown. "Just as with a pregnancy, it's important to let the adopting parents lead the way." Try not to be too overbearing. We know you're excited, but as we just mentioned, adoption can sometimes be a long, stressful process for adoptive parents. Don't add stress to your child's journey.

Adopting Older Children Requires Patience: "

Adoption counselors often recommend that parents adopting a non-infant initially be the sole caregivers for the child to establish trust," says Wambach Brown. "This can be difficult for eager grandparents." Just remember to have patience. You will be a part of your grandchild's life when the time is right.
Still Have Questions About Becoming a Grandparent Through Adoption?
Adoption Makes Family
Can Help!
Adoption Makes Family is here for you. We are a non-profit (501-C3) licensed adoption agency based in Maryland founded to meet the needs of birth parents and adoptive parents in a manner that is sensitive, compassionate, and personal. Our experienced professionals can help walk you through the adoption process and answer any questions you may have.
Call Us Now at (410) 683-2100
If you have any questions, you can contact us by phone at 410-683-2100, by e-mail at dr.kirschner@adoptionmakesfamily.org or use our online contact form.
Sources
Wambach Brown, Jessica. "What to Know about Becoming the Grandparent of an Adopted Child, and How to Prepare."

MarketWatch

, MarketWatch, 18 Sept. 2020, www.marketwatch.com/story/what-to-know-about-becoming-the-grandparent-of-an-adopted-child-and-how-to-prepare-2020-09-18.

"What Does Adoption Mean to Grandparents?: Adoption Network: Adoption Network."

Adoption Network

, 17 Dec. 2020, adoptionnetwork.com/adoptive-parents/parenting/what-does-adoption-mean-to-people/grandparents/.