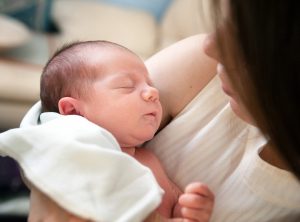 Creating an adoption plan is a difficult decision for any birth mother, especially one who is struggling to grapple with unplanned pregnancy. So, there are times when birth mothers continue to put the decision off for so long that the birth of the child comes along and there is still no plan. At this point, is it too late to create an adoption plan after birth? Absolutely not.
Most people think of adoption as a decision that is made during pregnancy. However, this is not always the case. In fact, even when an adoption plan is created long before the child is born, the ultimate adoption decision cannot be made until after birth. "Consent to adoption is not valid unless the consent is given after the prospective adoptee is born" (Citation: Md. Code, Family Law § 5-3B-21). So, YES it is absolutely possible to create an adoption plan after you have already given birth.
Have You Given Birth and Are Now Considering Adoption?
Adoption Makes Family is here to listen. We are a non-profit (501-C3) licensed adoption agency based in Maryland. Our experienced professionals will listen to you, answer any questions you may have, and help counsel you so that you make the best decisions for yourself and your child. Adoption is a complex emotional topic. It can help to have someone to talk to. And Adoption Makes Family is here to listen – 24 hours a day, 7 days a week. 
Call Us Now at (410) 683-2100
The details of the plan can be made at the time you find out you're pregnant.  The plan can even be made as late as the day or days after the baby is born. The plan can be fluid and is not finalized until the consents are signed after the child is born.
If you decide to create an adoption plan while in the hospital, request to speak to a social worker. They will contact an adoption professional, like

Adoption Makes Family

.

If you decide to create an adoption plan after you've taken the baby home, the first step is to reach out to an adoption counselor. Again, our number is above. Your counselor will help walk you through your options and explain the adoption process to you.
Whenever you make your decision, Adoption Makes Family is here for you. Working with an agency, like us, is usually the best way to find a placement for the child that you know will give that child a full and happy life. We also offer counseling for birth mothers, which is "a necessary component of infant adoption, not just prior to placement but, in many cases, after placement as well," according to Chuck Johnson and Kris Faasse. Adoption counseling begins the moment you reach out to our office for an initial consultation.
"Adoption is not just scary, counseling is provided because birth mothers can feel overwhelmed with the choices and decisions associated with adoption," says Dean Kirschner, Ph.D., LCSW-C. "Counseling may help a birth mother/birth father understand the various options associated with choices of parenting or creating an adoption plan."
Adoption Makes Family is here for you and your baby. If you are considering adoption but have not talked with a professional counselor, please contact us to speak with one of our staff members. 
If you have any questions, you can contact us by phone at 410-683-2100, by e-mail at dr.kirschner@adoptionmakesfamily.org or use our online contact form.