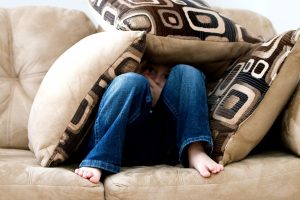 One of the biggest fears of any adoptive parent is that their child will end up struggling with adoption. It's one of the reasons why so many adoptive parents themselves struggle to bring up the subject. However, adoption isn't something that should be hidden. Adoption should be celebrated.
"It's important to keep in mind that adoption is not abnormal, nor should discussions about it be stressful for adoptive parents," writes Dr. Kathleen L. Whitten, Ph.D.
Dealing with Adoption
It's important to normalize the topic of adoption. Talk to your children about the topic early and often to ensure they aren't struggling with adoption. "Parents have to be proactive, intentional truth-tellers," says Jayne Schooler, author and adoption advocate. Start with an age-appropriate approach and keep the conversation going. It shouldn't be a one-time discussion. The conversation needs to evolve as the child grows.
"You have to start out from the beginning with a clear plan," says Chuck Johnson, president and CEO of NCFA and a former adoption agency director. "Lay the foundation by teaching children what adoption is, gradually share more age-appropriate information until the child reaches a full understanding, and continue the process throughout his life."
This approach will help normalize the conversation and make it easier for them to come forward if they are having an issue. Because, at the end of the day, the only way to truly know that your child is struggling with adoption is if they are comfortable enough to come to you with questions or concerns. So, step one is to normalize the topic. Step two is to establish a trusting environment.
Let your child know that it is okay to come to you with questions about adoption. "Adopted children will ask the questions about adoption that they feel they have permission to ask," says Schooler. "Parents have to think about how they communicate and what kind of environment they are establishing." This is why it is also important to remain positive.
How you communicate is just as important as what you communicate. So, stay positive. This is why Positive Adoption Language, first created in 1979, is the preferred language used by Adoption Makes Family. Positive adoption language should be weaved into every conversation you have regarding adoption, whether you are discussing your personal experience or talking about the birth parents. Staying positive will help make conversations about adoption easier and more organic.
"Positive adoption vocabulary helps to ensure that adoption is viewed as a wonderful way to build families," says Angela Tucker, The Adopted Life.
Still, despite your best efforts, issues may still arise and when they do,  it is important to meet these issues head-on when you sense your child may be struggling with adoption. A great way to do this is family counseling. Sometimes, utilizing a third party to facilitate the conversation allows parents and children to have meaningful conversations that they may otherwise not have.
Is Your Child Struggling with Adoption?
If you are looking for help, advice, or just need someone to talk to, Adoption Makes Family is here to listen! We are a non-profit (501-C3) licensed adoption agency based in Maryland. Our adoption counselors are available 24 hours a day, 7 days a week for your convenience. If you would like our advice or just need to talk, please give us a call at any time.
24-Hour Hotline 410-683-2100
If you have any questions, you can contact us by phone at 410-683-2100, by e-mail at dr.kirschner@adoptionmakesfamily.org or use our online contact form.