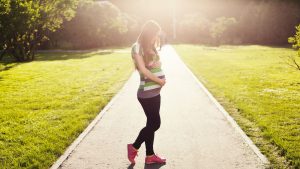 The decision to create an adoption plan is anything but selfish. Most birth mothers opt for adoption in order to give their child a better life – a life that, for whatever reason, they simply cannot provide at that moment. So, it should come as no surprise that many birth parents are worried about the future psychological effects adoption will have on their child.
The Psychological Effects of Adoption
"There is no parental handbook to ensure the psychological and emotional health of your child," says Ashley Foster, Adoption.org. However, it is important to note that every adoption is unique and for every negative feeling being adopted can bring about in your child, there are countless positive benefits of adoption as well.
Possible Negative Feelings & What to Do
Sense of Abandonment:

"Some may feel a sense of abandonment or rejection from their birth family," says Foster. But a lot of this can be alleviated with a positive relationship with the adoptive parents. A loving home can work wonders.
Self Esteem or Identity Issues:

"Some children may have issues with self-esteem or identity development," says Foster. This is often, but certainly not always, the case when adoptive children look different from their adoptive families. These feelings can be counteracted by having conversations about adoption sooner rather than later during your child's emotional development. "Even if the child is too young to understand what it means, it's important that they not find out later," says Foster. "Always be as honest about their birth story as age-appropriateness allows."
Guilt:

When they begin to grow more curious about their birth parents, "adopted children may feel as though they are betraying their adoptive family and/or that they will hurt their adoptive family by expressing their desire to learn about their birth family," says Kathryn Patricelli, MentalHelp.net. It is important for adoptive parents to be open and honest with their children and be supportive in their quest for more information.
Positive Feelings Outweigh the Bad
Despite the potential for negative feelings as the result of adoption, there are countless positive long-term effects of adoption as well.
Financial Wellbeing & Good Health:

Adoptive parents tend to be in a good financial place in life, allowing them to provide adequate healthcare to their children. In a 2007 report conducted by the U.S. Department of Health and Human Services, it was discovered that adopted children were also less likely to live in households below the poverty line, and 85 percent of adopted children were found in "very good to excellent health."
Loving Households:

According to the same 2007 U.S. Department of Health and Human Services, 68 percent of adoptees are read to every day as young children, and 73 percent were sung to every day.
Education Excellence:

The study also found that more than half of all adopted children reported to have "very good or excellent" performance in reading, language arts and math in school, and 85 percent participated in extracurricular activities while in grade school.
Considering Adoption?
Adoption Makes Family is a non-profit (501-C3) licensed adoption agency based in Maryland, founded to meet the needs of birth parents and adoptive parents in a manner that is sensitive, compassionate, and personal. Our experienced adoption counselors are here to answer your questions 24/7.
Call Us Now at (410) 683-2100
If you have any questions, you can contact us by phone at 410-683-2100, by e-mail at dr.kirschner@adoptionmakesfamily.org or use our online contact form.
Sources
Foster, Ashley. "What Psychological and Emotional Effects Can Adopted Children Suffer from?" Adoption.org, adoption.org/psychological-emotional-effects-can-adopted-children-suffer.

Patricelli, Kathryn. "Long-Term Issues For The Adopted Child." Mental Help Early Childhood Cognitive Development Language Development Comments, www.mentalhelp.net/articles/long-term-issues-for-the-adopted-child/.