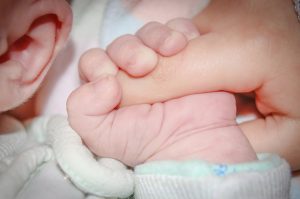 It can be an incredibly difficult decision to create an adoption plan. That stress is only magnified when your child has medical, developmental, or other special needs. Will there be a family to adopt my baby? This is the question on every birth mother's mind. It's a very real fear, but for many birth mothers in this situation, adoption is the only option as they just do not have the resources to properly care for their child.
Finding an Adoptive Family for a Special Needs Child
The process for placing a child with special needs for adoption is not much different from creating an adoption plan for any other child. You will still be in charge of your adoption plan, and your individual adoption counselor will work closely with you to help you find the perfect adoptive family for your baby. Contact Adoption Makes Family, a non-profit (501-C3) licensed adoption agency based in Maryland, and we will help walk you through the process, answering any questions you may have. Adoption Makes Family was founded to meet the needs of birth parents and adoptive parents in a manner that is sensitive, compassionate, and personal.
Choosing adoption is never easy, but Adoption Makes Family will make sure you have the caring and nurturing support you need throughout the adoption process.
Thinking about Adopting a Special Needs Child?
That's great! And we're sure you have lots of questions. We will try to answer a few of the frequently asked questions here, but we encourage you to reach out to one of our adoption counselors, who will be better able to answer your specific questions.
Call Us Now at (410) 683-2100
Here are a few frequently asked questions:
Will it cost more to adopt a child with a medical problem?

The cost to adopt a special needs child is not much different than the cost to adopt any other child. In certain situations the adoption fee can actually be waved or may even be covered by the state. "Other resources to consider are employer benefits, adoption loans and grants, and post-adoption subsidies offered at the state level," says Jennifer L. Lile, Special Needs Alliance.
Are there any special steps we may need to take before adoption?

"If you're thinking about adopting a child with special needs, you may be required by the state or an agency to take courses or get family counseling to prepare for the adoption," says Amy E. Renwick, MD, Kids Health. "Try to learn as much as you can about the child's condition and the special care that's likely to be needed before you make a final decision on adoption."
How do we know we are ready for a special needs adoption?

"Self-assessment is an essential early step when considering adoption of a child with special needs," says Lile. Prospective adoptive parents should ask themselves several important questions. What disabilities are we prepared to handle? What physical and / or emotional challenges are we able to face? Do we have the financial resources to care for this child? Does our insurance policy cover everything we will need? Will our school district be able to support the child's educational needs?
If you think you are ready to adopt, Adoption Makes Family is here to help! You can contact us by phone at 410-683-2100, by email at dr.kirschner@adoptionmakesfamily.org or use our online contact form.