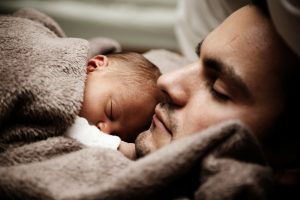 In previous blogs over the years, we've outlined the many benefits birth parents receive from working with a local adoption agency in Maryland, like Adoption Makes Family. However, we haven't spent much time discussing the benefits adoptive parents receive from similar relationships. So, we figured now was as good a time as any to dive into why local agencies are a benefit to both birth and adoptive parents.
Why Should We Choose a Local Adoption Agency?
Adoptive parents, like you, have three primary options to make your family complete: "through the foster care system, with the help of a local adoption agency or private attorney, and internationally," writes David Dodge, The New York Times. 
"The relationship that exists between prospective adoptive parents and their professionals is an 'intimate' one," adds Deborah E. Guston, former Director of the A.A.A.A. "So it really is important to not make your decision lightly."
Local Agencies Are Familiar with Maryland State Laws
Adoption laws vary from state to state, and a local Maryland agency should be intimately familiar with specific state laws. A larger, national adoption agency might not be as familiar with Maryland adoption laws. Furthermore, a local Maryland agency is licensed and reviewed annually by the state government.
Local Agencies Help Manage the Adoption Process
Adoption is a complex process. "An adoption agency…typically manages all aspects of the adoption process for you, from start to finish," explains Guston. Having someone to guide you through the process can help make it feel a little less overwhelming.
At Adoption Makes Family, our primary goal is to help you through the process, making it more manageable and a reality. Prospective adoptive parents can expect our dedicated professionals to guide them through the process of exploring adoption, fulfilling the requirements necessary for adoption, and beginning their adoption search. You'll be working with a single point of contact, a local adoption counselor who will genuinely get to know you and your family. We make personal connections with all of our families and want to make sure that the moment you meet your child for the first time receives the attention that such a monumental occasion deserves. Your local counselor will be by your side every step of the way.
Click Here to view our Step-by-Step Process
Local Agencies Provide Support
"Settling into parenthood or the 'post-adoption period' can present its own difficulties for [adoptive parents]," according to the Child Welfare Information Gateway. Counseling can be a great way to help talk through any issues you may be having.
Bonding:

"Many adoptive parents are shocked and a little concerned when their child is finally placed in their home, yet they don't feel an instant connection," says Nora Sharp, MLJ Adoptions. However, bonding takes time. It's not something you can force. It takes the "repetition of hundreds of positive interactions," says Rita Taddonio, director of the Adoption Resource Center at Spence-Chapin Adoption Agency. 
PADS:

Some adoptive parents suffer from what researchers have dubbed "post-adoption depression syndrome," or PADS. After months or years of anticipating parenthood, the excitement of the actual adoption can give way to a feeling of being "let down" or sadness in some parents. As with postpartum depression, it is important to speak with a trained professional.
Relationship:

Navigating adoption does not just mean acclimating your child to your family. It also means acclimating your family to your new normal. "No doubt adoption is stressful for the child, but it is also stressful for the parents," says Davenport. "It's not only the child's life that has been turned upside down."
Local adoption agencies provide counseling services to help adoptive parents adjust to their new lives.
Local Agencies Provide Greater Connectivity
Open Adoption Benefits
"There is a clear trend in the United States towards maintaining some degree of contact between birth and adoptive families, thanks in part to ongoing research that has found benefits for all involved," writes Dodge. According to Jennifer Fairfax LLC, 95 percent of adoptions today are either open or semi-open. Simply put, "the confidentiality that once defined adoption is no longer the norm," says Eliza Newlin Carney, Adoptive Families. And if you want an open adoption, it makes sense to work with a local agency.
Community
A local adoption agency can connect you to other local families who have already completed their adoption. Adoption Makes Family, for example, has gatherings and social events for our adoptive families. You can take comfort in knowing that there are others who know what you are going through and understand how you feel. Your adopted child will also have a sense of community with other adopted children. These social networks allow children to grow up together and celebrate milestones along the way.
Adoption Makes Family
is a Local Agency in Maryland
Adoption Makes Family is here to help! We are a non-profit (501-C3) licensed adoption agency based in Maryland. Our adoption counselors are available 24 hours a day, 7 days a week for your convenience. If you would like our advice or just need to talk, please give us a call at any time. Adoption Makes Family was founded to meet the needs of birth parents and adoptive parents in a manner that is sensitive, compassionate, and personal.
24-Hour Hotline 410-683-2100
If you have any questions, you can contact us by phone at 410-683-2100, by e-mail at dr.kirschner@adoptionmakesfamily.org or use our online contact form.
Sources
Dodge, David. "What to Know Before Adopting a Child." The New York Times, The New York Times, 18 Apr. 2020, www.nytimes.com/2020/04/18/parenting/guides/adopting-a-child.html?auth=login-email&login=email.