From the pre-placement visit to the birth, adoptive parents and birth parents can have a lot of interaction. It may seem stressful or awkward, but remember the circumstance that brought you together. Both parties share at least one thing in common: the belief in the wonders of adoption and the love of a child. Keeping this in mind helps you realize that communication with birth parents is about the love you all will share. Here are some general tips on positive communication for any situation. 
Think of Birth Parents as Sharing a Gift of Love
Think of the birth parents as genuinely giving a gift from their heart to your heart.  This gives the relationship a positive light. When you view the adoption as receiving a loving gift, you are more relaxed around them, making communication natural.  When you think of a birth parent as part of a loving group with the focus on a beautiful child, the relationship becomes one of joining together around the love of a child.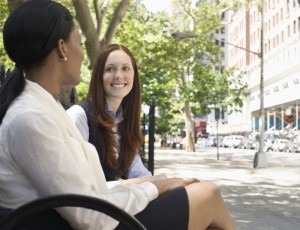 Relaxation is Contagious
People unconsciously notice when you're relaxed around them. This helps them open up to you as well. The more at ease you are around a birth parent, more than likely they'll be calm and natural around you. To help you relax, think of the adoption process a loving gift shared between birth parents and adoptive parents.  Express both the joy of adoption and respect for the birth parents' decision to create an adoption plan.
Body Language
About 80% of communication is body language. Make sure your actions, movements, and expressions accurately express what you wish to convey to the birth parents.  Make and keep eye contact and speak directly to the birth parents.  After all, they are the ones giving you this amazing gift.  Yes, it is okay to ask if you can give them a hug.
Active Listening is Key
This is important for any conversation. When speaking to anyone, you want them to know you're listening and you're interested in what they have to say. Birth parents may have a lot of exciting things to share with you, or even concerns. Listen closely and engage in the conversation to learn more about their thoughts, feelings, and even fears. Active listening builds a good relationship built on trust.
Ask Questions
Another way to show interest in a conversation or a party is to ask questions. Some good topics to ask birth parents included, are:
Health, well-being
New changes, exciting news
Recent events or fun activities
Interests and hobbies
How do birth parents want to be described to the adopted child
What wishes do birth parents have for the adopted child
Expressing care through conversation is a great way to establish a good relationship. Ask if you may take notes so you remember things and so you can share things with your child over the years.
Pre-Placement Visits with Adoption Makes Family
When adoptive parents meet the birth parents for the very first time, it can be an exciting experience for both parties. Adoption Makes Family hosts the pre-placement meetings to help make begin a loving relationship.
"The way I do this is to interview the adoptive family for the birth parents," explains Dr. Dean Kirschner, Executive Director and Adoption Counselor at Adoption Makes Family. "The birth parents get to sit back and listen to the interview. I do this to help the birth parents hear the very important information about the adoptive parents."
Adoption Makes Family is always here to help! We are a non-profit (501-C3) licensed adoption agency based in Maryland. Our caring and compassionate adoption counselors are available 24 hours a day, 7 days a week for your convenience. If you would like our advice or just need to talk, please give us a call at any time.
24-Hour Hotline 410-683-2100
If you have any questions about how to talk to birth parents, or you just need someone to talk to, you can contact us by e-mail – dr.kirschner@adoptionmakesfamily.org, use our online contact form, or call the number above. Adoption Makes Family was founded to meet the needs of birth parents and adoptive parents in a manner that is sensitive, compassionate, and personal.