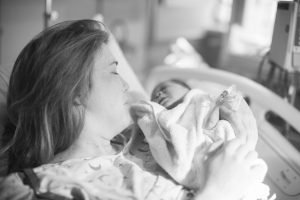 When a birth mother makes the difficult decision to create an adoption plan, the next big decision she is faced with is choosing an adoption agency. And beyond that, does she want to use a larger national agency, or a smaller Maryland adoption agency? 
The Benefits of Staying Local
"Working with a small, local adoption agency rather than a large out-of-state agency has many benefits," says Jessie McNaughton, Family Connections, Inc.
A local adoption agency is

there every step of the way

. "They walk you through each step of the adoption process, (e.g., application, home study, creating a profile, advertising, placement, and finalization) and provide the professionals to guide you," writes Narda Emett, Adoption.com. 

A local adoption agency provides a

level of support

unmatched by national agencies, especially post-placement. Birth mothers can receive help throughout the years for whatever emotional issues she is having related to her adoption process, explains Dean Kirschner, Ph.D., LCSW-C. This includes everything from post-placement adoption counseling to something as seemingly simple as how to write a letter to your child.

A local adoption agency

connects you with local adoptive parents

. "In an open adoption, this makes visits easier," says McNaughton. "Placing your child with a family a town, a county, or a short drive away can provide you with peace of mind."

Local adoption agencies are also

familiar with local state laws

. Adoption laws vary from state to state, and a local Maryland adoption agency should be intimately familiar with specific state laws. Furthermore, these agencies are licensed and reviewed annually by the state government.
So, you've decided to look local. The hard part is over, right? Well, not quite. Even when you narrow your search and Google the phrase "Maryland Adoption Agency," you are still presented with 12,800,000 results. Yikes! So, how can you be sure the adoption agency you choose is the right one?
Finding the
Right
Maryland Adoption Agency
"The most common question I receive from prospective adoptive parents is: 'How do I know if an agency is the right one for me?'" explains Chuck Johnson, President and CEO of the National Council For Adoption. Here are some tips:
Do your research.

Call different adoption agencies and ask questions. Are you licensed by the state of Maryland? How long has your staff been doing this type of work? How many adoptions do you handle at a time? This is not only a great way to gather information about the company, but also gauge the level of support you will receive. Is the agency quick to respond?
Assess how you feel after talking with each agency.

Did you feel pressured? Did the adoption counselor answer all your questions and help put you at ease? Any adoption agency that tries to pressure you into choosing adoption is not an agency that you want to work with. The right agency's goal should be to help you make the best possible decision for you and your baby.
Look for an agency that offers pre- and post-placement counseling.

"Counseling is a necessary component of infant adoption, not just prior to placement but, in many cases, after placement as well," write Chuck Johnson, president and CEO of the National Council For Adoption, and Kris Faasse, LMSW, ACSW, Director of Adoption Services for Bethany Christian Services.
Give
Adoption Makes Family
a Call – We're a Local Maryland Adoption Agency
The adoption specialists at Adoption Makes Family are here to help you explore your feelings and answer any questions you may have. We are a non-profit (501-C3) licensed adoption agency based in Maryland and our experienced professionals are available 24 hours a day, 7 days a week.
Call Us Now at (410) 683-2100
Adoption Makes Family spends time getting to know you and your family. We will make sure that your baby is placed with an adoptive family with similar values if you choose. You can take comfort in knowing exactly what type of family your baby will be entering.
If you have any questions, you can contact us by phone at 410-683-2100, by e-mail at dr.kirschner@adoptionmakesfamily.org or use our online contact form.
Sources
"Adoptive Families Blog." The Benefits of Domestic Adoption, blog.lifetimeadoption.com/adoptivefamilies/the-benefits-of-domestic-adoption.

Adoptions, Inc. American. "Local Adoption Agencies."  Advantages of Local Adoption Agencies, www.americanadoptions.com/adopt/local_and_regional_adoption_agencies.

"How to Choose an Adoptive Family ." American Adoptions — America's Adoption Agency, www.americanadoptions.com/family_profile/choose_adoptive_family.

McNaughton, Jessie. "Family Connections, Inc. Adoption Blog." 4 Reasons Birth Mothers Should Use A Local Agency, www.adoptfamilyconnections.org/blog/4-reasons-birth-mothers-should-use-a-local-agency.

Stevens, Anita. "Family Connections, Inc. Adoption Blog." Why Use a Local Adoption Agency | Adoption New York, www.adoptfamilyconnections.org/blog/bid/293306/Why-Use-a-Local-Adoption-Agency-Adoption-New-York.