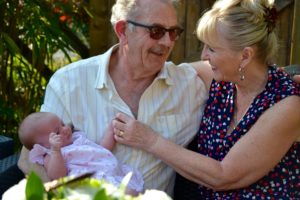 Having a family member adopt a child (kinship adoption) has its advantages and disadvantages. "Some women feel that it's best for the baby to keep him in the family," says Meghan Cohen, an adoption professional. However, kinship adoption creates a complex and often contentious family dynamic that can sometimes be problematic.
The Benefits of Kinship Adoption
Perhaps the biggest and most obvious advantage of kinship adoption is that "the child grows up with the family and siblings," says Cohen. Emotionally, this is a tremendous benefit for both parent and child. This type of adoption arrangement can also have a number of additional benefits:
The child, adoptive parents, and biological parents already have a personal relationship.

There is already a degree of trust between biological and adoptive parents.

Child and adoptive parents have easy access to "family medical and social history," says Cohen.
Another alternative to kinship adoption is kinship caregivers. Today, more than six million children in the United States (roughly one in 12 children) live in households where grandparents or other relatives are the primary caregivers, according to the Iowa Foster & Adoptive Parents Association (IFAPA). This type of action does not necessarily require any legal action or involvement by the state or an adoption agency. However, if you want to permanently place a child with a family member and allow them to adopt your child, this will require an adoption agency.
The Disadvantages of Kinship Adoption
"There are challenges when it comes to having someone within your family or a close friend adopt the child," says Dean Kirschner, Ph.D., LCSW-C, Adoption Makes Family. Some birth mothers find it difficult to watch someone else raise their child, especially if they live nearby and have frequent contact.
"When you place a child for adoption, your parental rights are terminated," says Cohen. "At the same time, the adoptive parents' rights are established."
This can be a source of conflict when the biological parents disagree with the parenting style or decisions of the adoptive parents. Of course, this is true in all forms of adoption, but it can be especially hard with the added family dynamic.
Another common issue with kinship adoption is role confusion. With a family member assuming legal custody of a child, it is important to sit down and clearly define roles. If each family member's roles, responsibilities, and expectations are not clearly defined from the beginning, all of these different connections will grow increasingly confusing as time goes on – especially if other children are involved.   
Exploring Your Options
"When facing an unplanned pregnancy, only you can decide which option is the best for your situation," says Cohen. "Whichever option you choose, remember that you aren't alone."
Adoption Makes Family can help. We are a non-profit (501-C3) licensed adoption agency based in Maryland, and our adoption counselors are available 24 hours a day, 7 days a week for your convenience. If you would like our advice or just need to talk, please give us a call at any time.
24-Hour Hotline 410-683-2100
If you have any questions, you can contact us by phone at 410-683-2100, by e-mail at dr.kirschner@adoptionmakesfamily.org or use our online contact form.