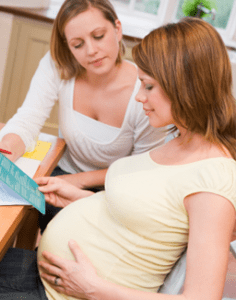 After a birth mother chooses to create an adoption plan, the biggest thing on her mind quickly becomes locating the perfect adoptive parents for her child. She'll ultimately want to find an "adoptive family that best matches the adoption plan" she set for her and her child, writes Haley Kirkpatrick, birth mother and adoption.com contributor. But how? Where does one find adoptive parents? How are adoptive parents screened? What is the whole process?
The Adoption Process: Finding the Perfect Parents
"All adoptions involve some level of 'red tape,'" says Katie Overstreet, an adoption agency professional. So, it's important to understand the process and know what to expect. 
The Questionnaire
If you decide adoption is right for you, a packet will be sent to you either by email or mail in a confidential envelope. The packet contains a questionnaire that helps us get to know you and identify potential adoptive parents. You may complete the questionnaire on your own or we can help you complete it during our initial meeting.
The Adoption Counselor
Next, you will meet with an adoption counselor to talk in-depth about your decision to pursue an adoption plan, giving you every opportunity to talk about your options in a non-judgmental, supportive atmosphere. This relationship will continue throughout the adoption process and beyond. 
The Families
After you've met with an adoption counselor, you will start reviewing potential adoptive families. Your adoption agency will have screened adoptive parents themselves, using both a detailed Application and Home Study. A home study is a series of interviews and home visits to make sure adoptive parents have the financial, emotional, and psychological capability to raise a child. This allows for more carefully and effectively matched birth and adoptive parents.
Next, you will look through adoption books, featuring profiles of the families. At this time, you can decide whether or not you would like to meet any prospective families in person.  If so, your next meeting will be with the potential adoptive parents. 
"Today, many expectant parents considering adoption connect with prospective adoptive parents through out-of-state entities—or facilitators— that they find online," write Karen S. Law, Esq. and Teresa M. McDonough, ACSW. However, meeting face-to-face allows birth and adoptive parents to connect in a way that just isn't possible online or over the phone.
Depending on how far in advance of your due date you have created your adoption plan, you may be able to have more meetings, either with an adoption counselor alone or with the prospective adoptive parents.
The Decision
Once you have met with the prospective adoptive family that meets your criteria (potentially more than once), you may be ready to make a decision. 
Choose
Adoption Makes Family
– Choose Compassion
Working with a local adoption agency is a great way to find support throughout the entire adoption process. Your agency will be your partner from that first phone call through placement, and beyond. 
"There are lots of agencies to choose from all over the country," says Jessie McNaughton, Family Connections, Inc. "Working with a small, local adoption agency rather than a large out-of-state agency has many benefits."
Adoption Makes Family is a non-profit (501-C3) licensed adoption agency based in Maryland, founded to meet the needs of birth parents and adoptive parents in a manner that is sensitive, compassionate, and personal.
24-Hour Hotline 410-683-2100
When you call Adoption Makes Family, you'll speak directly to an adoption counselor. We will start where you are, listening to your specific questions and responding to your individual needs. We will help you work through your decisions, providing advice and support as needed.
If you have any questions, you can contact us by phone at 410-683-2100, by e-mail at dr.kirschner@adoptionmakesfamily.org or use our online contact form.