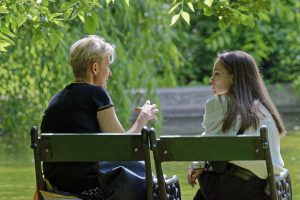 One of the most frequently asked questions we hear at Adoption Makes Family comes from parents who learn that their daughter is pregnant – "What should I do?"
How Can I Help My Daughter?
We understand that learning about your daughter's unplanned pregnancy can be very upsetting. Your thoughts may be racing; you may feel scared and overwhelmed. However, your daughter will need your love and support now more than ever. Let her know you're glad she's told you and that you love her. Just being there to listen to her and offer your support will mean the world to her. 
Then, once you have both had time to digest the information, you can help your daughter research her options. Adoption Makes Family can help you and your daughter work through the many emotions you are experiencing and reach a decision that is best for everyone.
Call Us Now at 410-683-2100
Our counselors are available 24/7 to talk to you about options and help you and your daughter better understand your options.
Is Additional
Counseling
Available?
Absolutely! An unplanned pregnancy can be scary, which is why it is important to talk to through every option. "Counseling is provided because families can feel overwhelmed with their choices and decisions," says Dr. Kirschner. "Counseling may help a birth mother/birth father understand the various options associated with choices of parenting or creating an adoption plan."
Not according to Maryland law. "Many states require parental involvement in a minor's decision to terminate a pregnancy," according to the Guttmacher Institute. However,  "states overwhelmingly consider minors who are parents to be capable of making critical decisions affecting the health and welfare of their children without their own parents' knowledge or consent." There are a few exceptions. Rhode Island, Michigan, Minnesota, and Louisiana DO require a minor to get her parents' consent.
Similarly, you cannot force your daughter to create an adoption plan. It is her choice.
Additional Ways to Support Your Daughter
As a parent, it can be hard to watch your daughter go through something as difficult as an unplanned pregnancy, especially if she is young. Your daughter needs your support now more than ever.
Provide Emotional Support:

"It is difficult to generalize about the impact of adoption on all birth parents," explains the  Child Welfare Information Gateway. "Each has faced a unique experience and coped in his or her own way." However, every birth mother needs emotional support. Surround your daughter with positive people who will actively help her throughout her journey – whatever that may look like.
Help Her Research Agencies:

"The most common question I receive from prospective adoptive parents is: 'How do I know if an agency is the right one for me?'" explains Chuck Johnson, President and CEO of the National Council For Adoption. One of the most important things you can do as a parent is help your daughter find the

right

adoption agency.
What About Kinship Adoption?

Kinship adoption is when a family member adopts a child. This type of adoption certainly has its advantages, but it also creates a complex and often contentious family dynamic that can sometimes be problematic. Another option is

kinship caregivers

. This is a much less formal arrangement (does not necessarily require any legal action) where family members other than the birth parents serve as the primary caregiver. Today, more than six million children in the United States (roughly one in 12 children) live in such households, according to the Iowa Foster & Adoptive Parents Association (IFAPA). 
Do You Have Additional Questions?
Adoption Makes Family is here for you. If you would like our advice or just need to talk, please give us a call at any time. We are a non-profit (501-C3) licensed adoption agency based in Maryland. Our staff is here to listen – 24 hours a day, 7 days a week for your convenience.
If you have any questions, you can contact us by phone at 410-683-2100, by e-mail at dr.kirschner@adoptionmakesfamily.org or use our online contact form.