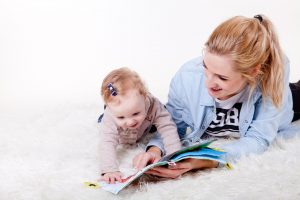 Did you know that November is National Adoption Awareness Month?
President Gerald R. Ford first created Adoption Week in 1984 as a way to shine a light on this incredibly loving and selfless way to build a family. But a week just wasn't enough. So, President Bill Clinton extended the week-long event in 1995 to encompass the entire month of November. And National Adoption Awareness Month was born!
"Adoption is about more than providing a home. It's about providing a permanent sense of place and belonging, and the security of knowing that no matter what life throws at you, these people – your family – will have your back," says Marketa Garner Walters, Department of Children & Family Services.
During National Adoption Awareness Month, families, businesses, communities, as well as federal, state, and local governments all celebrate the positive impact adoption has on the lives of children across the country.
How You Can Celebrate National Adoption Awareness Month
Retell Your Child's Adoption Story:

What better way to celebrate the month than to celebrate your family's own adoption journey. Plus, "repetition helps a child absorb the concepts surrounding adoption," says Barbara Russell,

Adoptive Families

. Adoption should never be kept a secret from a child. Speaking with your child early about adoption will help normalize the subject.
Spread Awareness Through Social Media:

If you are comfortable, you can share snippets about your adoption journey on social media – Facebook, Twitter, or Instagram. Use the hashtag #NationalAdoptionMonth.
Write Thank You Letters:

A great way to celebrate is to celebrate the people who helped make your adoption possible. Consider writing thank you letters to people like your adoption counselor, social worker, adoption lawyer, the birth parents (if you have contact with them), and really anyone else who positively impacted your adoption journey.
Participate in Local Events:

Participate in an event that celebrates National Adoption Awareness Month. A quick Google search can help you find events near you.
Celebrate Your Child's Heritage:

Our race and our culture are important parts of our identity as both individuals and as a community. Transracial adoptees can sometimes struggle with this sense of identity when they don't look like the rest of their family. This is why it is important to embrace your child's race and cultural identity and celebrate it. While this can sometimes be difficult for adoptive parents who want nothing more than to just live a "normal" life, it can be incredibly emotionally enriching for your child. 
Spend Time Together As A Family:

At the end of the day, adoption is about bringing families together. So, spend time as a family and celebrate the positive impact adoption has had in your lives.
Is Adoption Right For You?
"Choosing to adopt a child is a big decision and is a beautiful way to create or add to a family," writes Elaine Schulte, MD, MPH, FAAP. 
If you are actively considering adoption or even if you just want to learn more about the process, we encourage you to contact one of our adoption counselors. The professionals at Adoption Makes Family have many years of experience in adoption services, helping couples and singles explore their options for creating or growing their family. We are a non-profit (501-C3) licensed adoption agency based in Maryland.
If you have any questions, you can contact us by phone at 410-683-2100, by e-mail at dr.kirschner@adoptionmakesfamily.org or use our online contact form. 
Sources
"Adoption Statistics." Adoption Network, adoptionnetwork.com/adoption-statistics.

Doughty, Halen. "DCFS hosts events during Adoption Awareness Month." Donaldsonville Chief, Donaldsonville Chief,

www.donaldsonvillechief.com/news/20171113/dcfs-hosts-events-during-adoption-awareness-month

.

Gates, Gary J., et al. "Adoption and Foster Care by Lesbian and Gay Parents in the United States." PsycEXTRA Dataset, doi:10.1037/e690872011-001.

"National Adoption Awareness Month." Voice for Adoption, 7 Nov. 2017,

www.voice-for-adoption.org/whats-new/national-adoption-awareness-month

.