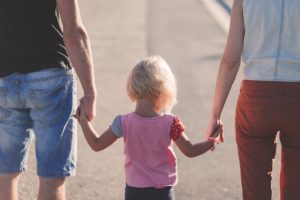 "Settling into parenthood or the 'post-adoption period' can present its own difficulties for [adoptive parents]," according to the Child Welfare Information Gateway. In this article, we will provide a few tips to help adoptive parents, like you, better settle into your new role.
Get Plenty of Rest
When welcoming a newborn into their home, adoptive parents face the same struggles as any new parent – most notably a lack of sleep. Those first few months can be difficult as you and your child settle into your new roles.
Take naps

when you can get them. "When a person who's long been bereft of sleep finally gets some shut-eye, the brain will make up both deep and REM sleep, says Margaret Moline, PhD, director of the Sleep-Wake Disorders Center.

"It may make sense to

rotate nights

, so one person does all the feedings while the other sleeps," says Denise Porretto,

Parents

. "That way, at least one person gets a good night's sleep, instead of both of you getting fragmented sleep."

"

Weaning her

from whatever strategies you've been using to soothe her to sleep (nursing or rocking, for instance) will teach her not to rely on these when she wakes up," says Porretto.
Older adopted children can struggle to sleep through the night as well. Older children often develop habits when in foster care. This institutional behavior can sometimes manifest itself in difficulty sleeping.
"Adoptive parents need to be cognizant of these challenges and incorporate those awarenesses in the expectations," says Dean Kirschner, Ph.D., LCSW-C. 
"With a newly adopted child, your

first goal is to help create attachment,

" says Dawn Davenport, Creating a Family. Once the child is comfortable in their new surroundings, they may find it easier to relax and get a good night's sleep.

"

Talk with your child

about her needs and fears," says Davenport. 

Once you feel the attachment is there,

slowly back off your physical and emotional presence at night

. "For example, if you have been lying with your child to get her to sleep, you gradually move to sitting on the bed, to sitting on the floor beside the bed, to sitting by the door, to sitting in the hall outside her door," says Davenport.

"Parents have to

believe

that their child can get to sleep and stay asleep before the child will believe it," says Davenport.

"

Allowing your child to fall asleep without you in the bed is not saying "' don't love you,'" explains Dr.

Kirschner.

"It is not a measure of love." 
Remember, Bonding Takes Time
"Many adoptive parents are shocked and a little concerned when their child is finally placed in their home, yet they don't feel an instant connection," says Nora Sharp, MLJ Adoptions. However, bonding takes time. It's not something you can force. It takes the "repetition of hundreds of positive interactions," says Rita Taddonio, director of the Adoption Resource Center at Spence-Chapin Adoption Agency. 
So, take a deep breathe and relax. As The Supremes once said, "You can't hurry love. No, you just have to wait." Click Here to read our blog on Tips for Bonding with Your Child.
Take Time for Your Relationship
"No doubt adoption is stressful for the child, but it is also stressful for the parents," says Dawn Davenport, Creating a Family. 
Growing your family can be stressful, especially during the first few months after welcoming a new child into your home. Shifting schedules, a lack of sleep, and increased responsibilities can be taxing even on the healthiest of relationships. So, it's important to take time to work on your relationship with your partner.
"We're so accustomed to making our children the center of our world, but experts say that your marriage needs just as much nurturing," says Holly Robinson, Parents. Here are a few tips to help keep your relationship strong after adoption.
"It's easy for couples to retreat and isolate themselves from each other when they feel stressed," writes Westermann. "

Create time each week to enjoy each other's company

and just be a couple"

"By

learning to listen

….really listen… you will gain more insight and understanding of each other," says Elizabeth Westermann, LCSW. "The deeper the understanding the deeper the connection you can have with your partner. With mutual understanding, your struggles to become parents can bring you closer together."

"It's important to

find new ways to connect

and keep your relationship fresh," says Linda Waite, PhD, a sociologist at the University of Chicago.

It is important to

express the three A's

during your daily routine – affection, appreciation, and admiration – says researcher John Gottman, PhD, author of And Baby Makes Three.

"No matter how great your marriage was before you had kids, you can't just leave it on autopilot now," says Robinson.

Counseling

can be a great way to help strengthen an already strong marriage, especially when going through a major change – like adopting a child.
Need Someone to Talk To?
Adoption Makes Family is here to help! We are a non-profit (501-C3) licensed adoption agency based in Maryland. Our adoption counselors are available 24 hours a day, 7 days a week for your convenience. If you would like our advice or just need to talk, please give us a call at any time.
24-Hour Hotline 410-683-2100
If you have any questions, you can contact us by phone at 410-683-2100, by e-mail at dr.kirschner@adoptionmakesfamily.org or use our online contact form.
Sources
Davenport, Dawn. "Adoptive Parenting: Balancing Attachment with Getting Sleep." Creating a Family, 21 Nov. 2017, creatingafamily.org/blog/adoptive-parenting-balancing-attachment-sleep/.

Frank, Christina. "Life After Adoption." Parenting, 24 July 2014,

www.parenting.com/article/life-after-adoption

.

"Impact of Adoption on Adoptive Parents." Child Welfare Information Gateway, Aug. 2015, www.childwelfare.gov.