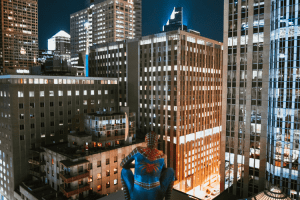 Today, more than 135,000 children are adopted every year, writes Asher Fogle, Good Housekeeping. "One out of every 25 U.S. families with children have an adopted child." So, odds are you know someone who has adopted. However, despite its increasing popularity, adoption remains a complex topic not fully understood by many. This misunderstanding is often perpetuated by the portrayal of adoptions in pop culture.
"Negative attitudes and misgivings towards adoption are so ingrained in pop culture that they're almost invisible," writes E. Young, Global Comment. "Many shows and movies make light of it, go for casual "he/she is adopted" jokes to explain bad or socially unacceptable behavior."
Erasing the Stigma of Adoption
Today, "Open adoption, transracial domestic adoption, and adoption by LGBT couples and single parents have all increased," says Fogle. And movements like National Adoption Awareness Month every November have further helped to normalize the process and shine a positive light on adoption – all kinds of adoption. Still, "people's notions about adoptions, how it works, and who the people in it are, are still not well-informed," says Adam Pertman, National Center on Adoption and Permanency. Adoption's portrayal in pop culture hasn't helped – remaining uneven at best and often perpetuating negative stereotypes.
"It's clear that [the] media on all fronts needs to be better," writes Young. "Poor representation of adoptions and foster care has contributed to misunderstandings that impact adoptive parents and children."
Often, a person's first experience with adoption is through pop culture – TV, movies, books, comic books, etc. This has led many to form incorrect perceptions of adoption and view this incredibly selfless act as flawed – often leading to the abuse of the adoptee. However, "recent long-term studies of adoptees in America show that they are no different in emotional health, psychological well-being, self-esteem, and attachment to family as children raised by their biological parents," write Isolde Motley and Susan Caughman, Adoptive Families.. "Most adoptions end in joy, triumph, and love."
Let's examine some of the most popular adoption stories in pop culture and how each portrays adoption.
Some of the Most Popular Adoptions in Pop Culture
"I've always known the portrayal of adoptions and foster care on television and in movies were hit and miss," writes Young. "At times they're barely above your typical changeling fantasy (think Annie), at times inaccurate, and sometimes overly saccharine to the point of erasing the subject completely."
Superman (DC Comics):

Arguably the most popular superhero of all time, and perhaps one of the most popular adoptees in pop culture, Superman burst onto the scene in 1938. Originally from Krypton, Superman's parents send him to Earth to protect him from the destruction of his home planet. Superman is found by Jonathan and Martha Kent in Kansas and adopted by the two farmers, who teach the young child how to control his power and be a good person.
Cinderella (Multiple Versions):

One of the most adapted fairy tales of all time, Cinderella is raised and abused by her stepmother and stepsisters after the death of her father. Cinderella grows up in brutal conditions where she is forced to cook, clean, and wait on her family's every need.
Luke and Leia (Star Wars):

Spoiler alert! Luke and Leia are not only siblings, but both were adopted by different families after the death of their mother. Luke was raised by his aunt and uncle, while Leia was raised by friends of her mother.
Spider-Man (Marvel Comics):

Spider-Man, aka Peter Parker, is raised by his aunt and uncle following the death of his parents. Peter grows up in a loving home and has a great relationship with his aunt and uncle, who raise the boy like their own child. After all, with great power comes great responsibility.
Michael Oher (The Blind Side):

Based on a true story,

The Blind Side

follows the life of Michael Oher, a football player who overcame an impoverished upbringing to eventually make it to the NFL with the help of his adoptive parents, Sean and Leigh Anne Tuohy. The book and subsequent film paint adoption in a positive light, but have been criticised for their portrayal of the Tuohy's as white saviors.
Harry Potter (Harry Potter):

When the books (and movies) open, Harry's parents have been murdered and he is left to stay with his aunt and uncle. The couple are less than happy to be stuck with the child and Harry is forced to grow up in a loveless home, suffering the abuses of his aunt, uncle, and cousin. Of course, things work out for Harry in the end, but the first 11 years of his life are made tougher by his adoptive family.
Margot, Edith, and Agnes (Despicable Me):

Originally adopted by the supervillain Gru to aid him in one of his nefarious schemes, the unlikely family eventually grow closer and learn to love one another. While the end result is inspiring, the movie certainly does not paint a particularly nice picture of adoption – especially when following the girls' struggles in their orphanage. However, the idea that families can all look different, including a single father raising three girls, is nice to see.
What's your favorite (or least favorite) depiction of adoptions in pop culture? We'd love to hear from you. Send us a message on Facebook.
Have Questions About Adoption?
Adoption Makes Family
Can Help!
"81.5 million Americans have considered adoption," writes Fogle. If you are one of them, our adoption counselors are here to help guide you through the decision making process. The journey of adoption may seem daunting and surreal. However, rest assured. You are not alone. Call us at (410) 683-2100. Our experienced professionals are available 24 hours a day, 7 days a week. Our primary goal is to help you through the process, making it more manageable and a reality.
Adoption Makes Family was founded to meet the needs of birth parents and adoptive parents in a manner that is sensitive, compassionate, and personal. We are a non-profit (501-C3) licensed adoption agency based in Maryland. Allow the professional team at Adoption Makes Family to help and support you through your adoption journey.
If you have any questions, you can contact us by phone at 410-683-2100, by e-mail at dr.kirschner@adoptionmakesfamily.org or use our online contact form.