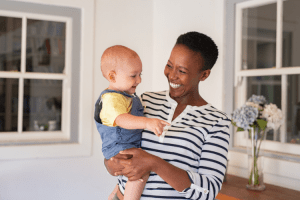 "More than 60 percent of adopted children in the U.S. are adopted by middle- and lower-income taxpayers," says Jim Daly, President of Focus on Family. "Almost one-half of children adopted from foster care live in families with household incomes under $75,000." And adoption is not exactly cheap.
Here in Maryland, the average cost of adoption ranges from $20,000 to $50,000 and varies depending upon the circumstances of the adoption. To provide some financial relief for these fees and expenses, the IRS (Internal Revenue Service) offers an Adoption Tax Credit.
"Financial incentives do make a difference in people's decisions on whether to adopt," says Adam Pertman, President and Founder of the National Center on Adoption and Permanency. "Not that they do it for the money, but it's expensive and it makes a difference and helps people get to yes."
What is the Adoption Tax Credit?
"If you have a child naturally and in the hospital, you have health insurance to cover the bills," says Kendra Taylor, who is currently in the process of adopting four children from foster care. "Nothing covers the legal fees for adoption. You're on the hook for it."
The adoption tax credit is a nonrefundable tax credit meant to provide relief for qualified costs paid when adopting a child. The credit amounts to $14,440 in 2021. Many families rely on the tax credit to make the process not just affordable, but possible. 
"You qualify for the Adoption Tax Credit if you adopted a child and paid out-of-pocket expenses necessary to the adoption," explains Dawn Davenport, Creating a Family.
If you do not have enough tax liability to use up the credit in the first year, you can carry it over for up to five years.
What are Qualified Adoption Expenses?
According to Intuit TurboTax, "The IRS defines qualified adoption expenses as any reasonable and necessary expenses directly related to the legal adoption of any child." These expenses can include:
Adoption fees

Court costs

Attorney fees

Travel

Meals

Lodging
Expenses incurred from the adoption of a stepchild do not count as qualified adoption expenses.
How Do I Claim the Adoption Tax Credit?
To claim the adoption tax credit, you will need to fill out Form 8839, Qualified Adoption Expenses and attach it to your Form 1040. You do not need to attach your signed adoption certificate(previously required) with your federal tax return. However, you should keep this handy for your own, personal records.
Have Additional Questions About the Adoption Tax Credit? 
The professionals at Adoption Makes Family have many years of experience in adoption services, and will walk you through every step of the adoption process. We are a non-profit (501-C3) licensed adoption agency based in Maryland, and our experienced adoption counselors are available 24 hours a day, 7 days a week.
Call Us Now at (410) 683-2100
If you have any questions about saving for adoption, you can contact us by phone at 410-683-2100, by e-mail at dr.kirschner@adoptionmakesfamily.org or use our online contact form.
Sources
Fried, Michele. "Think You Can't Afford Adoption? Here Are 10 Surprising Ways to Pay for It." The Penny Hoarder, The Penny Hoarder, 14 Nov. 2017,

www.thepennyhoarder.com/save-money/resources-for-adopting-a-child/

.

"New Addition: Adoption Tax Credits."

TurboTax Tax Tips & Videos

, TurboTax, 15 Aug. 2021, https://turbotax.intuit.com/tax-tips/family/new-addition-adoption-tax-credits/L69hPmzJB. 

Resmer, Lori. "25 Ways To Save Money For Adoption." Fund Your Adoption, 23 Jan. 2018, fundyouradoption.tv/25-ways-to-save-money-for-adoption/.