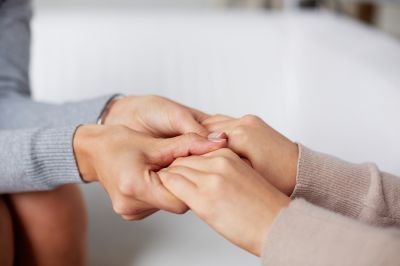 At Adoption Makes Family we put a lot of time and effort into providing the best support possible for you throughout the adoption process. When going through an unplanned pregnancy, you need support and guidance to get through it. Unplanned pregnancies can be difficult, and our goal is to make it easier for you to make the decision that's right for you and your baby.
Live Support 24 Hours a Day
Many birthparents have called us at night because they simply cannot sleep. We're here for you 24 hours a day, 7 days a week. Any time you need us, just give us a call at 410-683-2100 or use the chat box at the bottom right of our website. When you give us a call, you'll talk to an adoption counselor that works for Adoption Makes Family, not an automated machine.
How Adoption Counseling Works
From the moment you first call us, you'll talk with the same counselor every time. You're likely going through a huge array of emotions, and we'd like you to know that these feelings are completely normal. We'll help you get through them.
The counselor will listen to you and hear you out to the end. We always:
Treat you with sensitivity and respect
Are honest and open with all birthparents
Offer support to help you find what is best for you
Offer the option of open and closed adoptions based on your preferences
We don't push adoption on any birthparents. Instead, we talk over all of your options and as decide what is best for you and your child.  Then we'll provide you with the resources and support needed to take that path. If you do choose adoption, we will help you by starting your adoption plan. This is the plan in which you plan out your child's future.
See the step-by-step adoption process here.
Selecting a Family
Later down the road, your counselor will be there to help you select a family. You'll be matched with an adoptive family before your baby is born after having interviews and in-depth evaluations based on your specifications. If you wish, you may sit down with your adoptive family and discuss the future for your baby and see if that family is right for your baby.
By the end of the adoption process, you can rest assured knowing your baby will grow up in a loving, caring, healthy, and safe environment.
Ongoing Relationships
Our relationship does not stop here. For birthparents choosing to use a form of open adoption, our adoption counselor can be available to help you manage your relationship with your baby and the adoptive family for years to come. So if you want to connect with the adoptive family and your baby, we can help you do that. If you'd like to send and receive pictures through Adoption Makes Family, we can help you with that too.
Contact us today at 410-683-2100 if you are in need of adoption counseling services during your unplanned pregnancy. You're not in this alone…